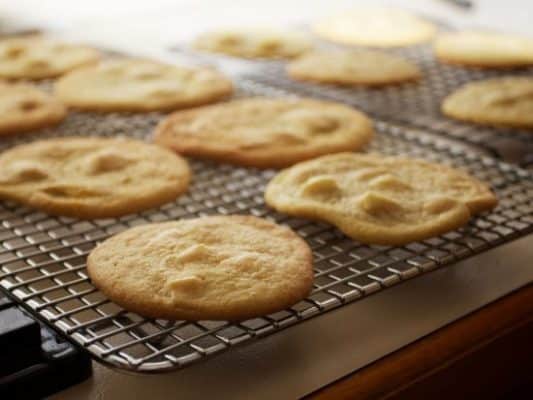 Subway White Chocolate Macadamia Nut Cookies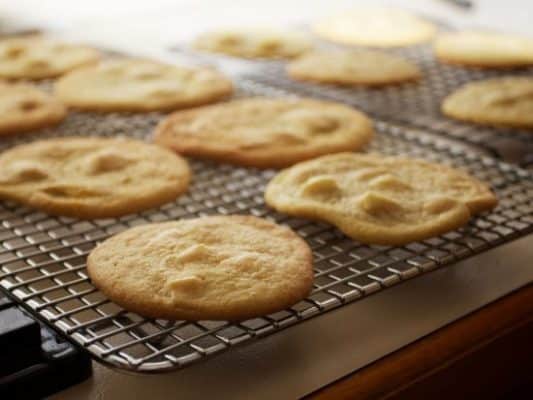 Difficulty
Not Too Tricky
Everybody who has tried Subway's classic White chocolate macadamia nut cookies know how great they taste. This recipe makes the recipe more accessible than ever before, and is as easy as possible to match the gooey quality you expect from Subway themselves.

A top tip to bear in mind - Take the cookies out of the oven a minute or two before they look cooked, as they will continue to cook themselves while resting!
Ingredient List
150g plain flour
1 egg
115g unsalted butter
1/2 tspn salt
1/2 tspn bicarbonate of soda
1 tspn vanilla extract
150g caster sugar
225g white chocolate
185g chopped macadamia nuts
Buy all of these ingredients here USA

Buy all of these ingredients here UK
Recipe Method Continues Below.
Method
Preheat your oven to 180°C / Gas Mark 4.
Mix together the butter and sugar in a medium-large mixing bowl until creamy.
Then stir in the egg beating until fully mixed.
Add in vanilla and stir, then add in the flour, salt and bicarbonate of soda whilst continuously stirring.
Once fully combined add in the white chocolate and macadamia nuts to the mixture and mix until blended.
Place the cookie dough onto baking sheets within a baking tray, and space evenly apart.
Bake in the oven for around 8 minutes until lightly browned. Remove the cookies slightly before they looked completely cooked as they will continue to cook themselves when removed from the oven.
Wait until cool then enjoy your Subway quality white chocolate macadamia nut cookies!
Our Subway Macadamia Nut Cookie Recipe was 5th place in our "Top 10 Fast Food Recipes To Cook At Home". Check out the other recipes that made the list!
Yum
Some of the links on this page are affiliate links. If you purchase an item after clicking one of these links we may receive a commission from the sale. This will never affect the price you pay.