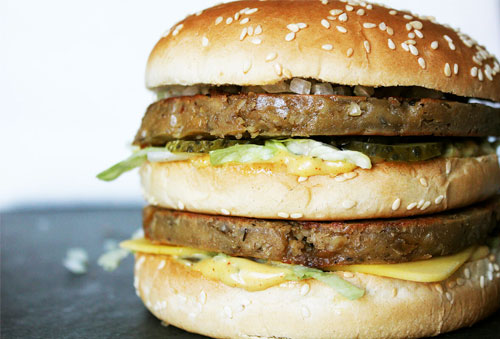 Vegan Big Mac Recipe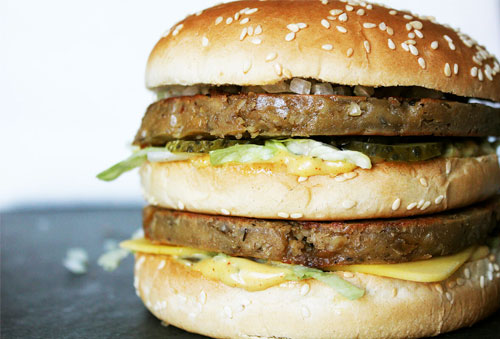 After receiving a huge amount of positive comments about our Copycat Big Mac Recipe, we were inundated with requests for a Veggie, or Vegan alternative.

So, on request, here is our DIY McDonalds Vegan Big Mac Recipe. This recipe uses our super tasty Big Mac copycat sauce, along with a vegan patty to produce an amazingly tasty Vegan Big Mac.
Ingredient List
8 Vegan Burgers
8 slices Vegan Cheese
4 large Burger Rolls
2 large Gherkins
2 tablespoons Minced White Onion
Half a Baby Gem Lettuce
For the vegan Big Mac Sauce
3 tablespoons Vegan Mayonnaise
1 tsp Garlic Powder
1 tsp Onion Powder
2 tsp Yellow Mustard
1 tsp White Wine Vinegar
2 tsp Paprika
Buy all of these ingredients here USA

Buy all of these ingredients here UK
Recipe Method Continues Below.
Method
Start by mixing all of the Vegan Big Mac Sauce ingredients together in a mixing bowl.
If you purchased thick vegan burger patties, slice them in half length ways to create two thinner patties. If the patties are reasonably thin already, skip this step.
Then place the vegan burgers in the oven, and follow the instructions on the packet to ensure you cook them well.
Dice the onion into small pieces.
Slice the gherkins into thin circles.
Slice the lettuce then shred into thin strips.
Now take your burger buns and very carefully cut them into three pieces. If the buns are too thin to slice into three. Use another bottom half of a bun as the middle bun.
Spread the Vegan Big Mac sauce you prepared earlier onto the sliced bread rolls, top and bottom.
Start building your burger by arranging the lettuce, onions then gherkins on the bun in that order.
To give the cheese time to melt, place them on to the burger patties in the oven two minutes before the burger patties should come out of the oven.
Take the patties out of the oven and complete your burgers.
Enjoy!
If you fancy cooking up a meat version of this delicious recipe, take a look at our copycat Big Mac Recipe.
Yum
Some of the links on this page are affiliate links. If you purchase an item after clicking one of these links we may receive a commission from the sale. This will never affect the price you pay.