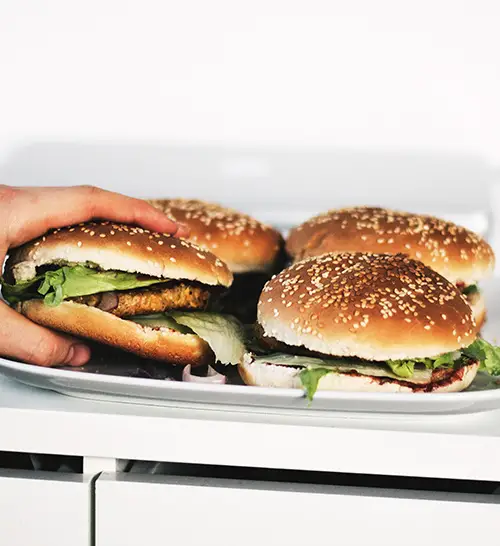 McDonalds Veggie Burger (McAloo Tikki) Copycat Recipe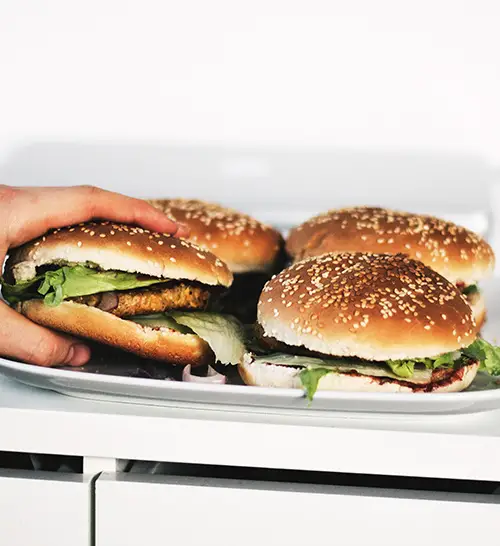 Difficulty
Not Too Tricky
Our McDonald's Veggie Burger Copycat recipe is our take on the delicious McAloo Tikki Vegan burger.

The McAloo Tiki is India's veggie burger which has recently been trialed in a selection of restaurants worldwide. Consisting of a combination of potatoes, peas and Indian spices, the battered patty is McDonald's only vegan burger.
Ingredient List
2 Large potatoes
1/4 cup finely chopped onion
1/4 cup finely sliced carrots
1/4 cup sliced green beans
1/4 cup peas
3/4 teaspoon garlic powder
1 tablespoon oil
2 tablespoons unsalted butter
2 sliced tomatoes
milk
Spices
1/4 teaspoon turmeric powder
1/2 teaspoon cumin powder
1 teaspoon paprika
1 teaspoon chat masala
3/4 teaspoon garlic powder
1/2 teaspoon salt
Batter
1/2 cup all purpose flour
4 1/2 tablespoons corn flour
1/4 cup corn meal
1/2 teaspoon salt
1 cup water
1/2 tablespoon oil
1/2 tablespoon oil 1/2 cup breadcrumbs
Buy all of these ingredients here USA

Buy all of these ingredients here UK
Recipe Method Continues Below.
Method
Begin by boiling the potatoes for 15 minutes.
After 15 minutes, drain the potatoes, add a dash of milk and unsalted butter and mash reasonably well.
Set the potatoes aside and heat the oil and butter in a pan on a medium to high heat.
Once hot, add in the onions and veggies and saute for a couple of minutes.
Add in the garlic powder and all other spices and mix together well.
Finally add in the mashed potato and mix together well, and cook for a further couple of minutes.
Turn the heat off, pour the mixture into a mixing bowl and put to one side to cool for a few minutes.
After 10 minutes mix in the bread crumbs until the whole mixture is combined well.
Cover the bowl and place it in the fridge for 45 minutes.
While the mixture is cooling, create the batter by mixing the all purpose flour, corn flour, corn meal and salt.
While mixing add in a few dashes of water, (only a little bit at a time) and continue to stir until you achieve a thick batter.
Finish the batter by adding oil and stirring together well.
After 45 minutes, take the mixture out of the fridge and roll the mixture into equal sized balls. Flatten these balls out into patties that are around 1/2 inch thick.
Dip each patty in the batter and the coat in bread crumbs.
Next, heat up a clean batch of oil in a shallow pan at a medium heat. Wait until the oil is fully up to temperature before continuing.
Next place a couple of patties at a time in to the pan and fry for around 2-3 minutes.
Flip the patties over and fry for 2-3 minutes on the other side until both sides are a golden brown color.
Once fried place each patty on to a paper towel.
Finally, assemble your burger by placing the burger on each bun, and then stacking lettuce and tomatoes on top. Add mayonnaise to the top bun and close to complete.
We explored other unique fast food items you can only find on McDonalds secret menu. If you like SECRET fast food read this!
Yum
Some of the links on this page are affiliate links. If you purchase an item after clicking one of these links we may receive a commission from the sale. This will never affect the price you pay.