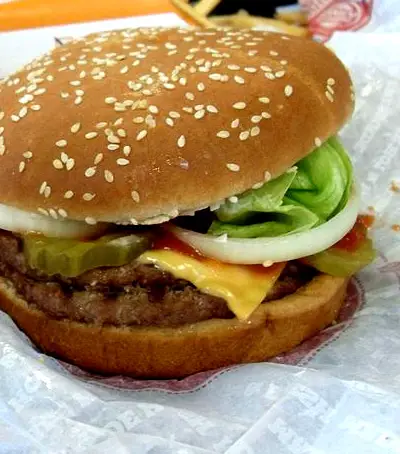 Burger King Big King Recipe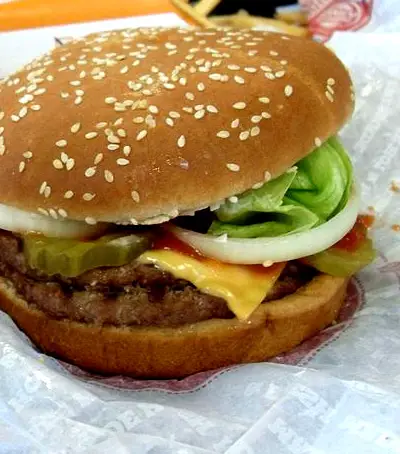 Difficulty
Not Too Tricky
They say copying is the best form of flattery. That rings true with Burger King's Big King, which holds a striking resemblance to McDonald's Big Mac. Two patties... Check. Special Sauce... Check.
This copycat burger recipe comes with a grilled twist on McDonald's signature Big Mac, and is a great recipe to break out using the BBQ on those sunny days.
Ingredient List
1/4 cup mayonnaise
2 teaspoons french dressing
1 teaspoon white vinegar
1/2 teaspoon granulated sugar
1 1/2 teaspoons sweet pickle relish
4 burger buns
1 1/2 pounds ground beef
8 slices american cheese
1 1/3 cups shredded lettuce
2 white onion (nice slices of)
8 dill pickle slices
1 pinch salt (and pepper)
Buy all of these ingredients here USA

Buy all of these ingredients here UK
Recipe Method Continues Below.
Method
Start by preparing the sauce. Mix together all of the sauce ingredients in a small bowl, and refrigerate until needed.
Slice a couple of slices of white onion and set to one side.
Preheat your gas grill on a high heat.
While your grill is pre-heating, divide your ground beef into 8 equal portions. Press each patty flat. Use the bun as a rough size guide, ensuring the patties are a similar size.
Grill the patties for 3 minutes each side, and season as you take them off the grill.
While your cooking the patties, lightly toast your buns either on the grill or in a toaster.
Once everything is cooked build your burger in the following order;
– Patty
– Cheese
– Patty
– Cheese
– Onion rings
– Pickle slices
– Sauce
A top tip is to give the built burgers a blast in the microwave for 15 seconds!
Yum
Some of the links on this page are affiliate links. If you purchase an item after clicking one of these links we may receive a commission from the sale. This will never affect the price you pay.