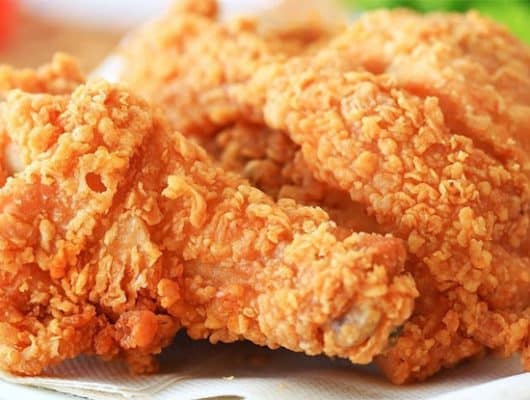 KFC Original Chicken Copycat Recipe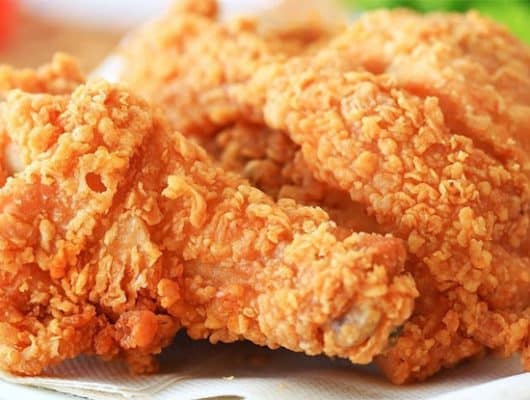 Difficulty
Not Too Tricky
We all know the story of the Colonel's 11 secret herbs and spices recipes being held in a top secret vault, and no body knows the original recipe. However recently the nephew of the colonel Joe Ledington, has revealed that he has a scrapbook containing the original handwritten recipe.

Of course, parent company Yum! are claiming the recipe released does not contain the real ingredients, but we put it to the test, and it's pretty darn close. Give the below recipe a go and let us know your thoughts as to how it compares!

Top tip - Before starting ensure all ingredients are at room temperature, as we don't want cold chicken lowering the temperature of the oil when frying!
Ingredient List
1 bag of chicken thighs, wings and drumsticks
1 egg
1 cup of buttermilk
2 cups of all-purpose flour
2/3 tblspn of salt
1/2 tblspn of thyme leaves
1/2 tblspn of basil leaves
1 tblspn of celery salt
1/3 tblspn of oregano
1 tblspn of black pepper
4 tblspns of paprika
1 tblspn of dried mustard
2 tblspns of garlic salt
1 tblspn of ground ginger
3 tblspns of white pepper
Buy all of these ingredients here USA

Buy all of these ingredients here UK
Recipe Method Continues Below.
Method
First, ensure the egg, buttermilk and chicken is all at room temperature.

Roughly half an hour before cooking, mix together the buttermilk and egg in a bowl.

Soak the chicken pieces in the egg and buttermilk mixture and then leave the chicken soaking for roughly 30 minutes.
Once the half an hour is up, combine all 11 of the "secret" spices and mix in all of the flour.
Remove the chicken from the mixture, and leave for a couple of minutes on a few pieces of paper towel. This is to allow any excess liquid to drip off of the chicken.
Then roll the chicken into the flour and spice mixture, making sure you cover all sides. Shake off any excess mixture.
Once your chicken is covered in flour, herbs and spices heat up your preferred frying method. We recommend using a small table top fryer. Heat until the oil is around 350°F (175°C).
Ensuring you don't overcrowd the fryer, start to carefully drop your chicken pieces into the hot oil. We go for 3 or 4 at a time!
Fry the chicken until it is medium golden brown all round (Around 13-15 minutes.) It's hard to keep away but try to only turn the chicken once!
If you like your skin crispy then serve these right away. If, like us, your a fan of the softer skin which you find on the real stuff, then transfer the cooked chicken to a plastic container, and pop the lid on for 4-5 minutes. This trick will let the steam in the pot soften the skin ever so slightly.
Enjoy!
Our KFC Original Recipe Chicken recipe came in at 2nd place in our "Top 10 Fast Food Recipes To Cook At Home". Check out the other recipes that made the list!
Yum
Some of the links on this page are affiliate links. If you purchase an item after clicking one of these links we may receive a commission from the sale. This will never affect the price you pay.