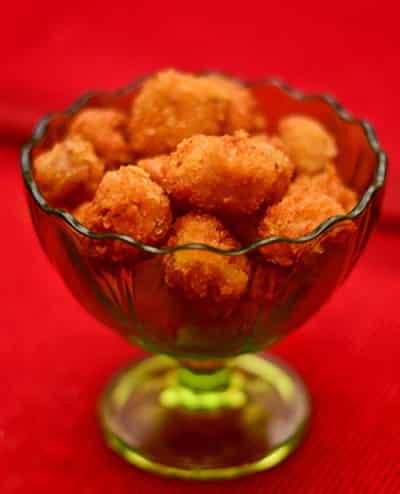 KFC Popcorn Chicken Copycat Recipe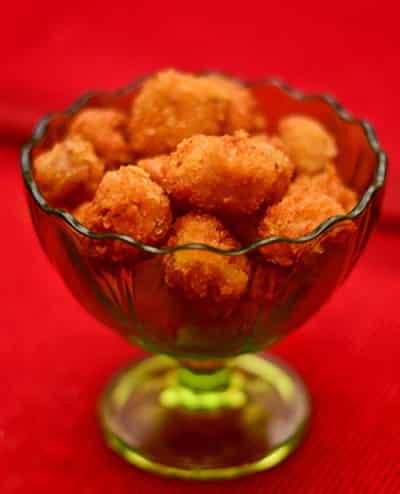 Difficulty
Not Too Tricky
KFC Popcorn Chicken was made to be shared around and eaten with friends and families. This recipe is easy to follow and very easy to batch cook to create as many tasty chicken bites as needed.

Top Tip - To cook up more batches of popcorn chicken, all you need to do is double the amount of chicken. Increase the amount of herbs, spices & flour as needed as you go. You shouldn't have to double all of these to make 2 batches as you will get excess which doesn't stick to the first batch.
Ingredient List
300 grams of boneless chicken fillets
½ tsp of paprika
½ tsp of onion powder
2 tbspsn of corn flour
1 large egg
1 cup of bread crumbs
½ tsp of Garlic powder
A Pinch of pepper
A Pinch of salt
Buy all of these ingredients here USA

Buy all of these ingredients here UK
Recipe Method Continues Below.
Method
Start by cutting up the chicken fillets into small popcorn sized bites.
Soak each chicken piece in the egg for a few minutes.
Whilst the chicken is soaking, in a small container add a pinch of pepper, a pinch of salt, paprika, garlic powder, onion powder and the corn flour.
Remove the chicken pieces from the egg mixture and leave on a paper towel for a couple of minutes to drain off any excess mixture.
Then roll each popcorn chicken bite in the mixture of herbs, spices and flour. Coat each portion well on all sides.
Lift each piece of chicken directly from the herb mixture and roll in breadcrumbs.
Set each piece aside for a few minutes while you heat the oil. This will allow the bread to stick to the chicken well.
To cook we prefer a small-ish table top fryer to allow for an even cook on all sides. Ensure the oil is around 350°F (175°C).
Drop in a few pieces of popcorn chicken into the fryer and heat until golden brown on all sides. Turn regularly! We fry each piece for 4-5 minutes to ensure the chicken is cooked through.
Remove each batch from the fryer and allow to cool on a couple of sheets of paper, before enjoying!
Yum
Some of the links on this page are affiliate links. If you purchase an item after clicking one of these links we may receive a commission from the sale. This will never affect the price you pay.