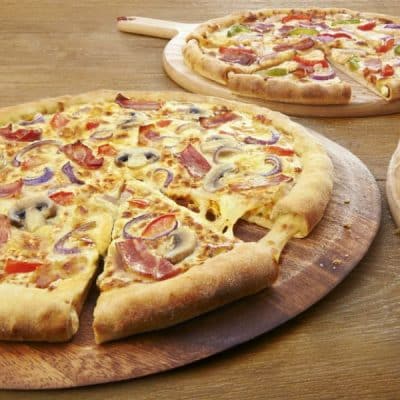 Dominos Pizza Dough Copycat Recipe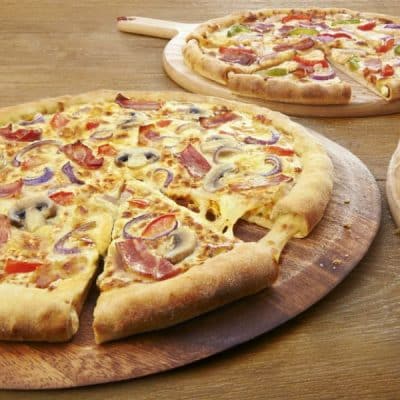 Difficulty
Not Too Tricky
Many people have issues when trying to create the ultimate pizza dough base at home. It may seem daunting at first but ultimately it's not overly difficult. What's even better is this pizza base recipe tastes just as good as the tasty pizzas you get from Dominos!

Top tip - This recipe is for 4 pizza bases the same size as a Domino's medium (The perfect size for one sitting!). You can increase or decrease the ingredients easily to create less or more dough and in turn create larger or smaller pizza bases.
Ingredient List
5 cups of all-purpose flour
1 tspn of instant yeast
1 1/2 cups of water (warm)
1 tblspn of sugar
2 tblspns of virgin olive oil
1 1/2 tspns salt
Buy all of these ingredients here USA

Buy all of these ingredients here UK
Recipe Method Continues Below.
Method
Combine the flour, instant yeast, warm water, sugar and salt in a large mixing bowl and stir.
Add in the olive oil after a couple of minutes, then continue to mix until a sticky dough ball begins to form. You can add in more water if the mixture is too dry. At this point you can remove the mixture from the bowl and start to knead by hand.
Get 4 freezer bags and spray the inside with cooking spray or oil.
Divide the pizza dough mixture into four pieces and put each piece into its own freezer bag. You can freeze the dough to save for another day if required.
Around an hour and a half before baking allow the pizza dough to rise at room temperature.
After approximately 90 mins stretch each dough ball into a flat round base and allow to rest. At this point preheat your oven to 470°F (240°C).
Top the base with whatever topping you like and bake for 10-12 minutes in the centre of the oven.
---
View The Equipment We Used In This Recipe!
Our Recommended Mixing Bowls 
OXO Mixing Set – USA
OXO Mixing Set – UK
Our Recommended Food Bags  
Solimo Food Storage Bags – USA
Food Storage Bags – UK
Yum
Some of the links on this page are affiliate links. If you purchase an item after clicking one of these links we may receive a commission from the sale. This will never affect the price you pay.